Yamaha YZF-R7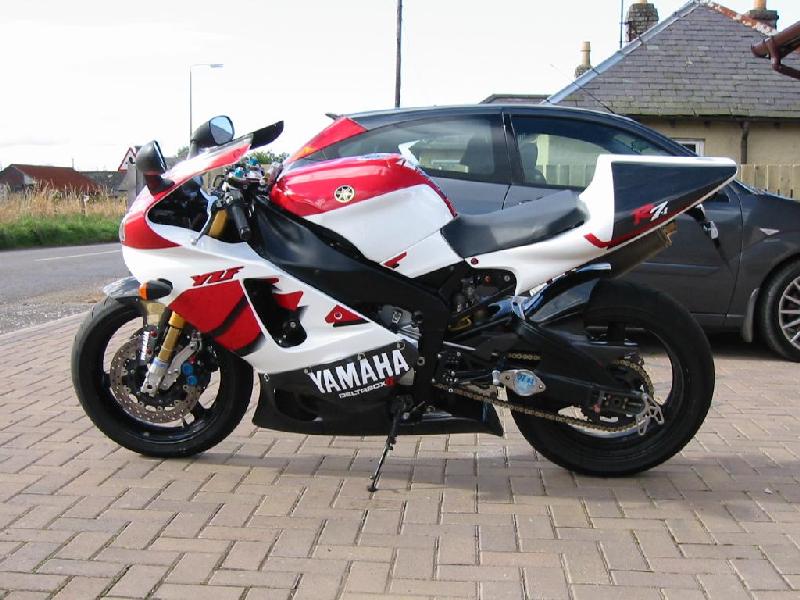 Эксклюзивный мотоцикл класса Superbike. Двигатель концепции Genesis, объемом 750 см3. Моноблок цилиндров с упрочнением стенок токами высокой частоты, 5 клапанов на цилиндр. Двойной впрыск EFI. Титановые клапана и шатуны. Алюминиевая рама Deltabox II. Полностью регулируемые передняя и задняя подвески Ohlins. Регулируемый руль. Облегченный алюминиевый топливный бак. объем - 749 см3, мощность 106 л.с., сухой вес 176 кг.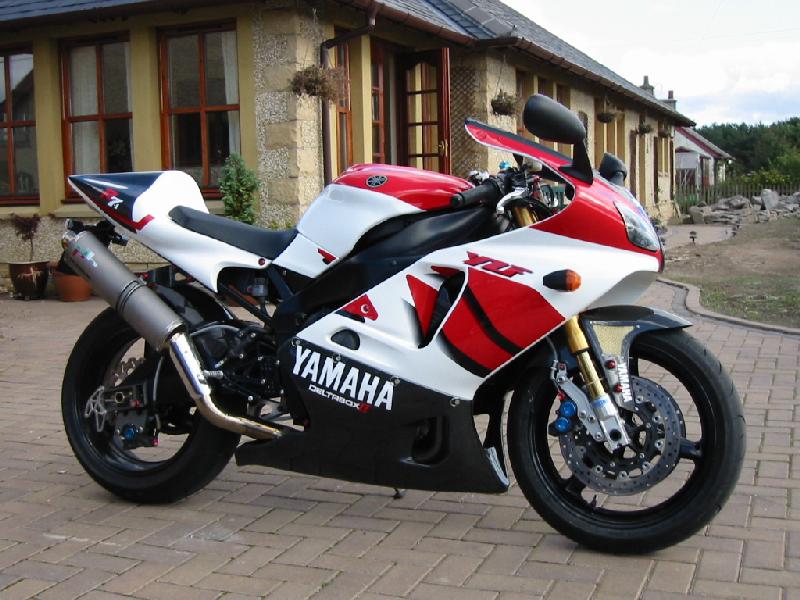 Тип мотоцикла: Супер-спорт
ДВИГАТЕЛЬ
Число цилиндров 4
Расположение цилиндров Рядное
Объем 749.00 см3
Мощность 106.00 л.с. при оборотах 11000 мин-1
Крутящий момент 72.10 Нм при оборотах 9000 мин-1
Число тактов 4
Система охлаждения Жидкостная
Количество клапанов на цилиндр 4
Диаметр цилиндра / Ход поршня 72.0 x 46.0 мм
Компрессия 11.41

ХОДОВАЯ ЧАСТЬ
Передние тормоза Двойной диск
Задние тормоза Однодисковые
Диаметр переднего тормоза 320 мм
Диаметр заднего тормоза 245 мм
Ход передней подвески 120
Ход задней подвески 138

РАЗМЕРЫ И МАССА
Сухая масса 176.0 кг
Размер переднего колеса 120/70-ZR17
Размер заднего колеса 180/55-ZR17
Высота по седлу 840 мм
Колесная база 1,400 мм
Полная длина 2,060 мм
Полная ширина 720 мм
Полная высота 1,125 мм
Клиренс 120 мм
YZF-R7 2002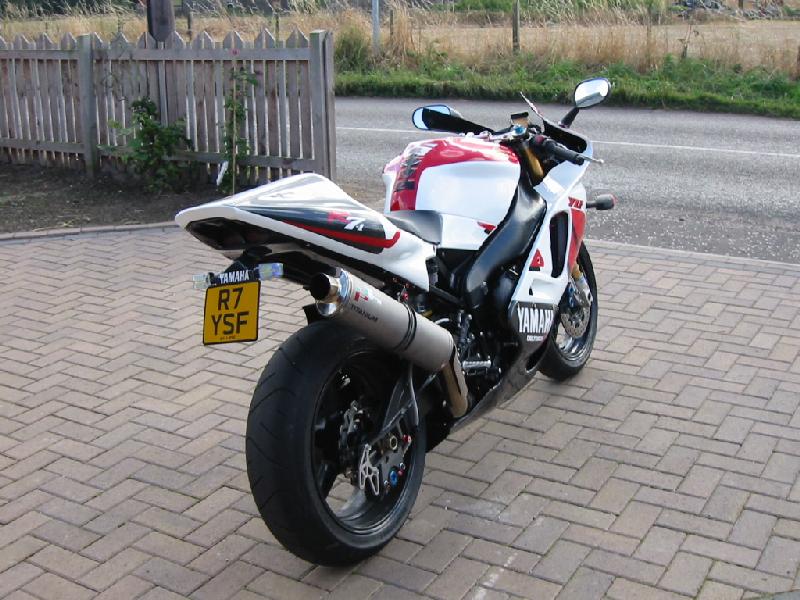 General information
Model:
Yamaha YZF-R7
Year:
2002
Category:
Sport
Rating:
58.8 out of 100. Show full rating and compare with other bikes
Engine and transmission
Displacement:
749.00 ccm (45.70 cubic inches)
Engine type:
In-line four
Stroke:
4
Power:
106.00 HP (77.4 kW)) @ 11000 RPM
Torque:
72.10 Nm (7.4 kgf-m or 53.2 ft.lbs) @ 9000 RPM
Compression:
11.4:1
Bore x stroke:
72.0 x 46.0 mm (2.8 x 1.8 inches)
Valves per cylinder:
4
Cooling system:
Liquid
More details
Consult a Yamaha repair manual.
Physical measures
Dry weight:
176.0 kg (388.0 pounds)
Seat height:
840 mm (33.1 inches) If adjustable, lowest setting.
Overall height:
1,125 mm (44.3 inches)
Overall length:
2,060 mm (81.1 inches)
Overall width:
720 mm (28.3 inches)
Ground clearance:
120 mm (4.7 inches)
Wheelbase:
1,400 mm (55.1 inches)
Chassis and dimensions
Front suspension travel:
120 mm (4.7 inches)
Rear suspension travel:
138 mm (5.4 inches)
Front tyre dimensions:
120/70-ZR17
Rear tyre dimensions:
180/55-ZR17
Front brakes:
Dual disc
Front brakes diameter:
320 mm (12.6 inches)
Rear brakes:
Single disc
Rear brakes diameter:
245 mm (9.6 inches)
Speed and acceleration
Power/weight ratio:
0.6023 HP/kg
YZF-R7 OW-O2 1999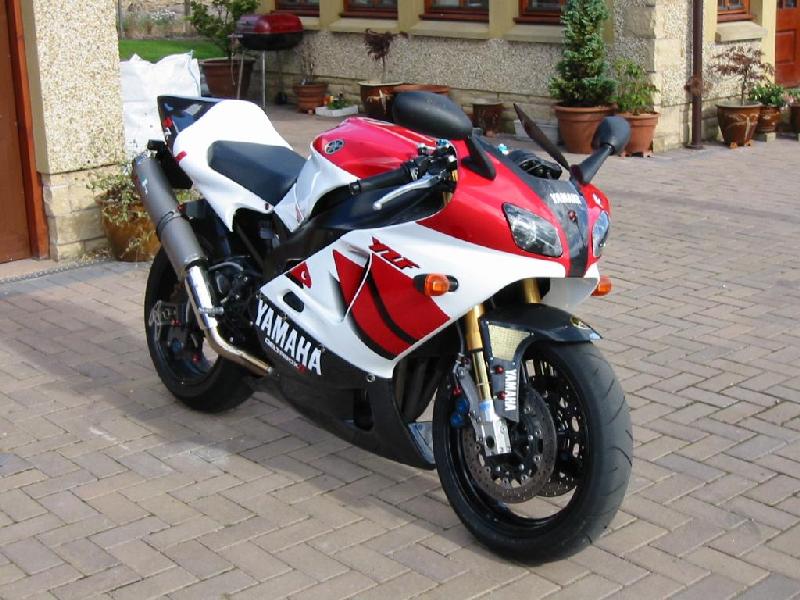 общая информация
модель
Yamaha YZF-R7 OWO2
категория
спортбайк
год выпуска
1999
двигатель
рабочий объем двигателя
749 сс
диаметр цилиндра / ход поршня
72 мм х 46 мм
количество клапанов на цилиндр
DOHC, 5 клапанов на цилиндр
максимальная мощность
106 л.с. (79 kW) при 11000 об/мин
тип двигателя
4-цилиндровый, 4-тактный
охлаждение
жидкостное
компрессия
11,4:1
система подачи топлива
176 кг
тип зажигания
CDI
крутящий момент
72,1 Nm (53,2 ft. lbs) при 9000 об/мин
трансмиссия
тип привода на заднее колесо
цепь
число передач
6
ходовая часть
передняя подвеска
телескопическая вилка, ход вилки 120 мм
угол наклона / вылет передней вилки
22 градуса / 95 мм
задняя подвеска
монокросс, ход 138 мм
колеса
размер передней шины
120/70-17
передние тормоза
дисковые, диаметр диска 320 мм
размер задней шины
180/55-17
задние тормоза
дисковые, диаметр диска 245 мм
размеры
длина
2060 мм
высота
1125 мм
колесная база
1400 мм
емкость бензобака
23 л
ширина
720 мм
высота по седлу
840 мм
клиренс
120 мм
1999 Yamaha YZF-R7 OW-O2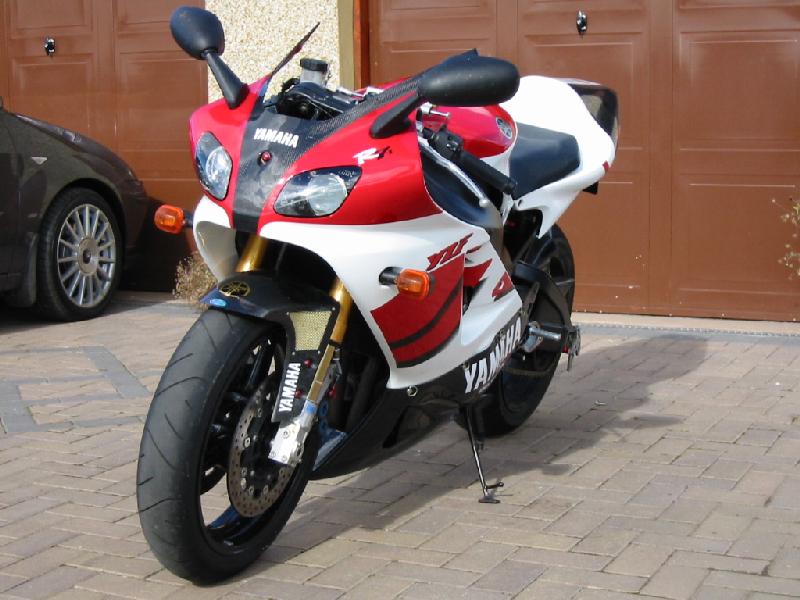 By Glenn LeSanto, Contributing Editor , Apr. 05, 1999
It is built for the track and it shows. The faster you ride it the more it likes it. Motorcycle Online correspondent Glenn Le Santo became one of the few people in the world who will ever experience the thrill of the Yamaha YZF-R7. Should you be envious? Read on and find out for yourself.
Great Britain, April 5, 1999 -- The Yamaha YZF-R7 OW-O2 has one purpose in life: To win races. You may have seen it displayed in various shows with lights and road gear but these have only been added in order to homologate the bike to meet F.I.M. regulations. Only 500 exacting, hand-made machines are being produced, making it one of the rarest production bikes ever to leave a Japanese factory. Even if you could afford the £20,000 ($32,000 USD) sticker price, you couldn't actually purchase the bike unless you can prove you have a full season's racing ahead of you. Of course, you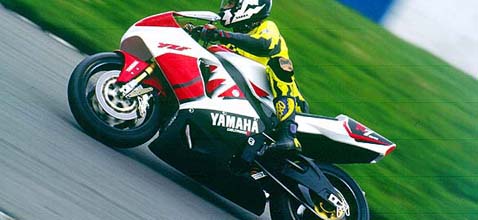 could always sponsor a rider. Then at the end of the season you have an awesome track day tool to play with, if there is anything left of it after a hard year of racing at the Superbike level.
Technical SpecificationsAt first glance its spec sheet reads just like that of the YZF-R1 or R6. Like its cousins, the R7 is powered by a slant block, in-line, liquid-cooled, four-cylinder, four-stroke engine used as a fully stressed member of the chassis. But closer inspection of the spec sheet shows a wide divide between this racer and its road-going relatives.
Breathing and combustion
First, the bike is fuel injected. The electronic twin-injector system meters fuel into the intakes which receive air from a massive 15-liter airbox, but without any ram-air ducting. All that air and unburned fuel is squeezed into the combustion chambers via 12 titanium inlet valves mounted in a CNC-machined cylinder head. This mixture is then squashed to 11.4 times atmospheric pressure by ultra-strong, ultra-light, short-skirt forged pistons with plated crowns. The pistons connect to the ion-nitrified crankshaft by "H" section titanium con-rods. Burned mixture is expelled past eight more titanium valves held in place by aluminum valve retainers. Plated cylinders and a one-piece crank are not unique technology but it's better to have them than not.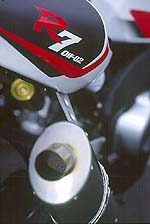 In order to ensure that the bike complies with a host of emission laws, Yamaha has shut down one of the two injectors per cylinder. This is how the bike is capped at 105 horsepower. Turn on the other injector, add a high-level, free-flowing exhaust system, make a minor modification to the ECU wiring, fit a high pressure fuel pump and the R7 will produce a claimed 135 horsepower. In full race trim expect this figure to rise to around 150 horsepower.
Along with the other YZF-R series Yamahas, the R7 features compact and lightweight direct-ignition coils mounted in the spark-plug caps and is fed sparks from a compact, high-output AC generator via a DC-CDI arrangement. The multi-function ECU monitors crankshaft and camshaft speed, throttle position, temperature and pressure as well as controlling ignition timing and volume. The ECU also features a self-diagnostic system to help assist race mechanics.
Brakes, Wheels and Suspension.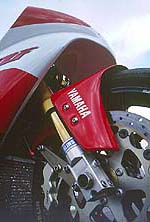 The homologated YZF-R7 comes with two four-pot, one-piece calipers biting into dual 320mm discs, similar to the R1. Expect any self-respecting racer to throw them away in favor of a more race-ready set-up. Likewise with the heavy (for racing) R1 derived wheels, which will quickly be junked in favor of something much lighter. Front and rear Ohlins suspension is fully adjustable and the front sliders are coated with titanium nitrite to reduce friction.
Transmission
You may be surprised to learn that the YZF-R7 is not fitted with a dry clutch, although the wet multi-plate clutch does feature a back torque limiter to prevent lock up during aggressive down-shifts. The gearbox is a six-speed close-ratio racing set-up. The gear shafts are mounted in the now familiar tri-axis arrangement and "stacked" vertically instead of horizontally to shorten the engine, allowing Yamaha to fit a longer GP style swingarm yet still keep its ultra-short 1,400 mm (55 inch) wheelbase. Take a look at Yamaha's YZR GP race bike and notice how similar the YZF-R7's black aluminum frame looks. It should since Yamaha based the R7's chassis as closely as possible to their two-stroke GP bike.
Riding the YZF-R7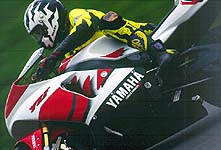 With the official launch of the bike not due for two more weeks and no chance of getting an invite, I resigned myself to probably never riding this gem of superbike technology. So when racer and all round great bloke Dean Ashton contacted me to say he was about to take delivery of an YZF-R7, I found it hard not to run out into the street shouting "Yes!". At first he said he didn't intend to ride it, let alone let me ride it, but when I promised to print the telephone number of his England-based tuning shop, Ashton Performance Centre, (+44 (0) 1964 537575), in my article he agreed to uncrate the bike and ride it on the road for pictures. I took my helmet and gloves along with me with the hope that he might feel extra generous that day and offer me a quick ride around the block. When he hopped into the photographer's car to warm up halfway through a windswept photo session he asked if I would like a go. I moved faster than Roadrunner escaping from Willy E. Coyote giving chase aboard an ACME rocket and had my gloves and helmet on in record time.
Handling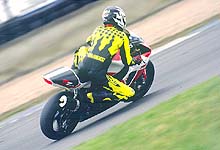 Straight out of the crate the Yamaha YZF-R7 is perhaps the best handling bike available. Ashton commented that the steering was more nimble than even his 916 Corsa race bike -- let alone an R1, which he described as "slow-steering" compared to the Corsa. Not only is the steering razor sharp, it also is extremely accurate -- choose a line, any line, and the R7 tracks that line faithfully. We rode it in very high winds which, despite attempting to rip rider from machine, did little to faze the R7's steering. Brake while in a turn and the bike behaves impeccably. Its mid-corner manners aren't affected whether or not you use the brakes.
The brakes are powerful, as you might expect since they are very similar to the R1's set-up. What surprised me was their feel. They are very progressive, a nice touch because they are so powerful. The rear brake was also a gem. Too many motorcycles have rear brakes that are all or nothing. Not the R7, its rear brake is powerful and progressive.
The bike is not designed for road use and is set-up rather stiffly. On the bumpier roads the rear shock transfers every jolt to the kidneys. The suspension is a lesson in control, despite the stiff set-up, and while on the bumpy Yorkshire roads the wheels stayed glued to the ground. Only when gunning the R7 hard down a particularly bumpy straight was there even a hint of flap from the front-end. With the front wheel lightened from acceleration the bars would give a slight twitch in the riders hands, but it was far from the violent slapping the road might have induced on lesser bikes. And this was without a steering damper.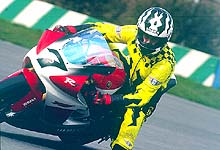 The Pirelli Corsa tires only had about 10 kilometers (6.2 miles) of road work so we weren't about to push the bike hard through the cold, dusty bends. A little too much gas would cause the rear-end to squirm, hardly surprising given the freezing conditions and brand new tires. Even over the bumpy, back-road bends the R7 stayed absolutely riveted to its line. It is without doubt the most stable bike I have ever ridden.
Engine
The engine surprised us. Here we had a brand new bike, only two hours out of the crate and restricted to comply with the toughest regulations in Europe yet it was far from feeling tight, strangled or capped -- the power delivery was sensational. Here is a 100 horsepower, 750cc inline four that thinks it's an RC45. Apart from a little emission-controlled fluffiness below 3,000 rpm the power delivery was impeccable.
Blip the throttle at tick over and the revs rise and fall at a moments notice, indicating the lightness of the crank and piston assembly. Get the R7 rolling and twist open the race action throttle a quarter turn -- to full open -- and the bike lunges forwards without hesitation. Between 4,000 and 6,000 rpm it pulls very respectably, comparable to my own Thunderace (Yamaha YZF-1000). Once the revs cross the 6,000 mark the bike pulls stronger than any "restricted" 750 has a right to. Despite being brand spanking new the bike was hungry for revs and the tach needle really moved by the time it swept past 10,000. Sympathy should have forced a gear change at this point, but the top-end rush was so addictive I couldn't resist letting it run on to 12,000 rpm. For a bike with little more than a few miles in its bores it felt very free revving. I couldn't wait to ride it in kitted form, and judging by the look on his face neither could Dean Ashton.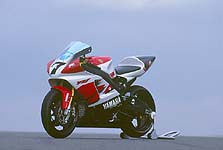 The sound of the bike also surprised us. While a little noisy at tick-over, once underway the induction growl was reminiscent of an RC30 being caned across the Isle of Man TT circuit: A very deep, offbeat growl barked up from below the tank. Either standing at the side of the road for photographs or as I rode the bike I heard its growl, although you will also hear a more "normal" four-cylinder swish from the road-legal muffler. I found the sound addictive and only the threat of a beating from Ashton forced me to turn the bike around and return to base after an all-too-short ride.
The Track Ride
Some people have all the luck and its its not me.
However, even the losers get lucky sometimes.
Sitting beneath me was a full race-kitted Yamaha YZF-R7 on slick tires, the very bike that I drooled over as it sat on the stage at its launch in Munich. It looked so absolutely fantastic that I vowed to ride it one way or another. For most of us the nearest we'll get to one is our dreams, that is unless we're prepared to take up a career in bank robbery and happen to possess a strong racing resume as well. Now, without being a racer or having held up a single bank, one of those 500 R7s was between my legs in the pit lane at Donington Park, Britain's historic Grand Prix and World Superbike circuit. I had already ridden the road bike version but nothing had prepared me for my track experience.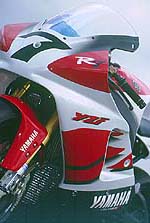 The Track Marshall waved me on and suddenly I awoke from my reverie to the reality of actually riding the R7 on the track. I blipped the throttle and slipped the impossibly light clutch to get the throaty four-cylinder engine turning hard enough to roll me out onto the circuit. With the clutch engaged and only 3000 showing on the tach the bike was already leaping ahead. Here is a four-cylinder that pulls like a V8 car. Anywhere in the range from 3000 to 14,000 rpm produces real power. There is a definite kick at 8000 but even earlier things happen very quickly. In third the front wheel got light when hard on the throttle.
All this engine performance is pointless without a chassis that's up to the challenge. Right from the start Yamaha set out to make this the best handling bike in its class. Lucky for them that they had a template to work with: the YZR500 Grand Prix bike. Using the same dimensions the R7 looks tiny. It's short, low and narrow. The black frame and swingarm look great, as do those sculptured body panels in the red, black and white of Yamaha's race colors. Believe me, it feels as good as it looks. Actually, it feels even better, in fact.
The tires were stone cold. We had just unloaded the R7 from the truck when a Marshall came running out to tell us our slot had been pushed forward and I could get on the track. I only had an hour to ride but what an hour that was. Donington is a difficult track and I am no racer. Get one curve wrong and the next three are wrong as well. For me that meant spending the first 20 minutes warming up the tires and finding a line that seemed to work. This was the first time I had ridden on slicks. Once they were warm the grip was superb, but when they were cold the rear would slide if I opened the throttle too hard. I abused the front-end by braking too late and getting caught by the engine's immediate pick-up, but there were no near-death experiences. Once I got into a groove and started to apply the power hard and early through a turn I began to experience the depth of the bike's abilities. One thing was for certain, it has much more ability than I do.

The engine is simply brilliant. No race engine has a right to be so flexible,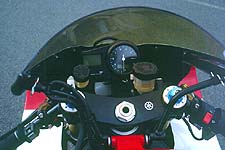 pulling better than many street bikes of the same capacity. The raucous noise coming up from underneath me as I ran the tach needle up through the rev range will haunt me for ever. At low revs it sounds almost like a V-4, with a strange off-beat grumble from the intake, rough not in a mechanically-defective way but in a "look-out-I-am-bad" way. Several times I ran laps lazily in fourth, winding through all but the tightest turns without bothering to shift. Out of each corner the motor just growled and built up speed like a jet fighter on after-burners.
This particular R7 was fitted with Nissin racing brakes that put braking into a higher league, scrubbing off speed effortlessly while being so progressive they allowed for deep braking into corners. The stock Ohlins suspension at the front and rear handled some of Donington's bumpier sections without fuss, although winding the power on hard out of some bumpy bends did cause a little wallow at the rear. However, the rear tire fitted for the tests was getting decidedly second-hand, having been used hard during testing in Spain. This may have been the reason for a slight weave down the main straight, something that wasn't evident on the road version. Given the impeccable behavior of the chassis, I'm inclined to blame any undue movement on the too-scrubbed rear tire.
After about 35 minutes on the track I began to try and up my pace. Rather than risk dropping the R7 on difficult sections of the circuit, I cruised the risky bits and attacked the sections I was more comfortable with. Soon I was flying through the bends faster and faster, only to find the R7 becoming more and more willing. The closer I took it to the edge the better it felt. Now I was getting the bike leaned way over in the turns, with the engine singing at over 10,000 rpm. Donington doesn't need brakes for large sections, just big balls. The sweeping sections were the most fun. Joining one curve to another under hard acceleration was easy and the bike doesn't seem to need any effort to turn it.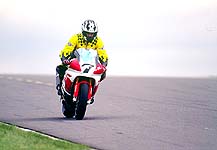 Whatever I did, the R7 responded with "give-me-more". There is no doubt that this is one of the best motorcycles ever built. To get your hands on one (if you are rich, lucky and know people in the right places) and then ride it on the road is almost a sacrilege. The bike would undoubtedly make a great bike for Sundays spent carving the canyon roads, but that would miss the point. The Yamaha YZF-R7 is built to race and that's what will make it happiest. Not only is it too expensive for a road bike, it's also probably too fast, though not in a Hayabusa-top-speed-fast way but fast as in more than capable of going faster than you are able or allowed. It can get you into a lot of trouble on the road, although the brilliant chassis may just save you from your own over-enthusiastic riding.
To say I enjoyed the short ride I had on both the road and track versions is an understatement. All my life I have dreamed about a bike that is fast but flexible, small and light, one that handles impeccably. Many bikes have promised to reach these heights but riding them has always revealed small flaws. The R1 is the nearest I have experienced to Motorcycle Nirvana, but it has now been totally eclipsed by the R7. Well, I got my ride, and now all I have to do is figure out how I can go about owning one. Where did I put that book, "The Beginners Guide To Bank Robbery"?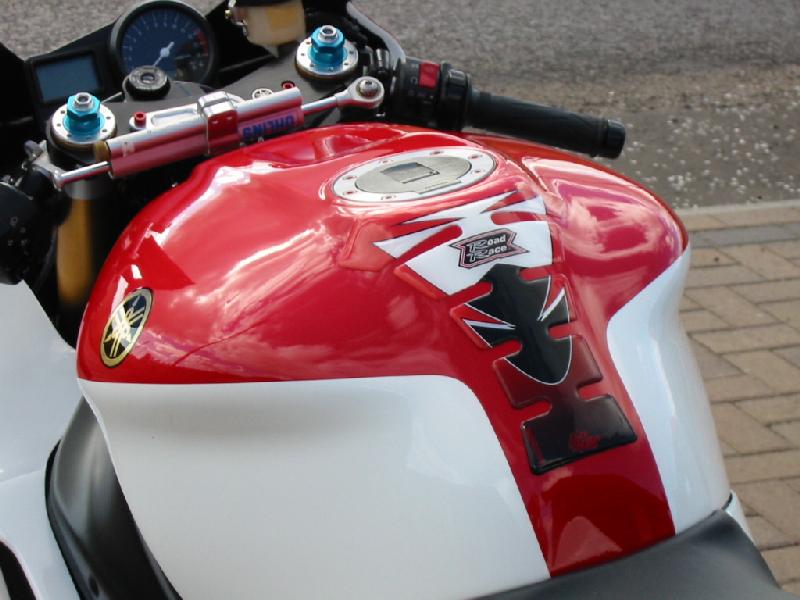 Источник: http://www.motorcycle.com/