2010 Yamaha V Star
650
Review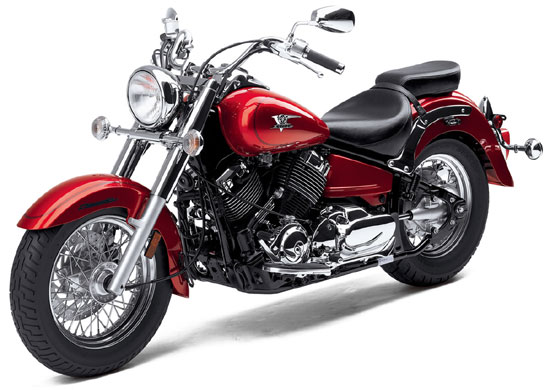 2010 Star V Star Classic
Buying a real cruiser, tourer or custom has absolutely nothing to do with cylinder capacity. That's the first idea you get when checking out the 2010 V Star lineup, especially the 650cc trio, the Classic, Silverado and Custom. These bikes are built with reliability, comfort and fuel efficiency in mind and it is by now a fact that beginners love them mostly due to offering diversity in the form of entry-level products.
Does 40-cubic-inch of V-twin motor ring a bell? This is one of the first engines to power a Yamaha cruiser-type motorcycle and ten years after being introduced it still rocks…on three stylish different models.
Introduction
Star doesn't perform any mind blowing upgrades to the V Star, but the real question here is if the bike actually needs them. For instance, the 40-cubic-inch, air-cooled, 70-degree V-twin; SOHC, two valves per cylinder engine is the most appropriate one for the specific type of motorcycle and the 28mm Mikuni carburetors fueling the cylinders do not only stand for good throttle response, but for fuel efficiency as well. In fact, the V Star 650, no matter model, will go 49 miles with a single gallon of gas. Considering the fact that the fuel tank keeps 4.2 gallons, gas stops shouldn't become a reason of worry on this bike.

Star didn't fit their 650s with belt final drive for 2010 and it might not replace that shaft a long time from now. The five-speed tranny and multiplate wet clutch are also consecrated features of the bike, so it is unlikely to get it wrong with this Star.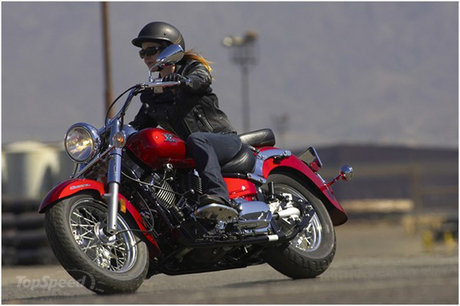 The bike is destined to beginning riders, meaning it is light (in between 513 lbs and 587 lbs depending on the model of choice) and has a low seat height 27.4 inches without sacrificing wheel travel. The 41mm telescopic fork features 5.5 inches of travel (which is good even for larger models), while the single shock features 3.4 inches of travel, meaning that anything smaller than a speed bump will hardly feel disturbing.

Brake performance is great thanks to a 298mm front hydraulic disc and 200mm rear drum, but while technically the bike doesn't bring anything new, style is what makes the difference. The 2010 Star V Star 650 sells either as a Classic, Silverado and Custom, each one with plenty of distinctive features.
Competition
Star Motorcycles is the only one to offer this much diversity on bikes with this small engine capacity so any alternatives are likely to have bigger motors and be more expensive. The 2009 Boulevard C50 ($7,799) and C50T ($9,099) are both powered by the same fuel-injected 805cc, liquid-cooled, OHC, 45-degree V-twin engine, but one's a Classic and the other a Tourer. Suzuki offers no Custom, just a Special Edition model.

2009 Honda Shadow Spirit 750 C2

The only appropriate thing you'll find to the 2009 V Star 650 Custom is Honda's Shadow Spirit 750. Starting at $6,999, the 2009 Spirit features a low 25.7-inch seat, drag-style handlebars and a 21-inch front wheel and the power source is a 745cc, liquid-cooled, 52-degree V-twin with SOHC and three valves per cylinder that is also carbureted. Apart from the Spirit, Honda sells the Aero also for $6,999. This one is the corresponsive for the Classic V Star as it features deeply valanced fenders, spoked wheels as well as a lot of chromed pieces. The engine is the same, so it is all a matter of style, just like in the case of our three bikes.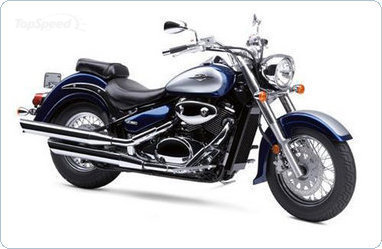 2008 Suzuki Boulevard C50

Exterior
Any cruiser lineup must feature an old timer and in this case it's the 2010 V Star 650 Classic. The bike distinguishes thanks to retro looks with deeply valanced fenders and a teardrop tank. Given the nature of this bike, it features a low seat, wide handlebars and spacious floorboards. But what really makes this model look from a whole different time period are the laced standard spoked rims with beefy tires as well as the great number of chromed elements that are standard on it. Modern fit and finish consists in a stylish Deep Blue color scheme and a clean Candy Red one.

Wrapped up in a range of touring goodies such as a medium-size adjustable windscreen, low-profile studded touring seat with backrest and studded leather saddlebags, the 2010 V Star Silverado indicates the open road as the favorite direction of travel even though it will do just fine within city limits as well. The only color available for the 2010 model is Raven, the appropriate choice for the lively little tourer.

The cherry on the cake is the 2010 Star V Star Custom. The lightest among all three models and the coolest looking, in my humble opinion, the Custom has that long, low and mean style, which also increases handling performance, but not comfort. The biggest difference compared to the other two models most likely concludes in the form of those bobbed fenders, drag-style handlebars and that 19-inch front wheel, but the lack of chrome on the Raven painted Midnight Custom sure helps too. Still, for those who can't conceive a cruiser with no chrome, Star also offers the Pearl White color scheme. Very nice!
----
Test Drive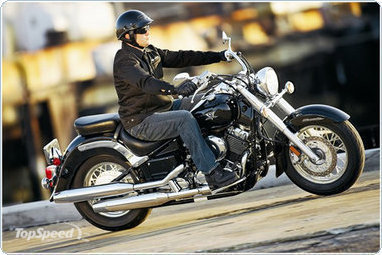 With the first moment I saw the 2008 V Star 650 Classic, I understood why people sometimes confuse it with 1000cc motorcycles. The bike simply surprises with its size and you ask yourself if you didn't by mistake receive the 1100cc model.

After you clear that thought in your mind, pull out the "choke" knob situated under the left rear corner of the tank and fire the engine up. You will see how this unit's response is quick and easy and how the bike idles smoothly while letting it worm up a little bit in a cold morning.

By this time, you will surely be anxious to give it a go so you will use the low-effort clutch and snick it into first gear. If you are used to dour machines, the V Star will feel smooth, reliable and confidence-providing and this is just the start. City traffic will be no problem for this ride as it shifts precisely and no abrupt feel will be encountered while using the clutch.

I enjoyed pulling away when lights turned green because this was a great opportunity to see the engine's pull in the lower gears. Rolling on the throttle in lower gears provides good acceleration and the engine's exhaust system makes a good impression also. In my attempt of detaching from four-wheeled traffic, I noticed that by the time you have to shift to second, all cars can be seen in the rear view mirrors. Third gear would have finished them off if you decide to be more gentile with the 650cc engine.

In town, I didn't considered necessary to shift to fourth gear and that is why I felt necessary to get it on the highway and see what it really can prove with its V-twin engine.

This Star doesn't feel short on power until it reaches 70mph. Also, at high engine speeds, power falls off surprisingly and that is where you realize that no mistakes were made and you received the right bike. The 649cc air-cooled, SOHC 70-degree V-twin is designed to crank out torque at low and mid rpm levels and until that time, these will be long gone.

By the time the rider becomes familiar with highway speeds, he will be capable to shift at peak power, an important part of gathering momentum quickly. Any other situations were proudly faced by this V-twin fed by two 28mm Mikuni CV carburetor.

Out on the highway, other issues rise up and are well worth considering. An example, especially on cruisers, is the vibration levels detected by the relaxed rider. Thanks to the V Star's counterbalancer, vibrations remain almost nonexistent from around 75 mph, where the grips start to tingle and the pegs tremble a little. At 85 mph and above, the vibration level is very significant, blurring the mirrors.

Even though you may detect some vibrations, it is good to take in consideration the fact that this is a cruiser for the beginner rider at its second evolutionary step so it isn't quite recommended to widely open the throttle. It would be best to enjoy the relaxed riding position. The footpegs are not too far forward positioned so they keep tall riders from feeling cramped and short motorcyclists from feeling like they have to extend their legs in order to reach the pegs. The same think with the handlebars.

Another important unit in providing comfort and stability in corners is the suspension. I noticed that is absorbs small bumps with ease and still manages to keep the bike steady while cornering. Speed bumps will require you to lift your butt of the seat in order to keep things comfy and simple.

Also important, but for a mental comfort, is to have good, reliable brakes which only require a stronger squeeze for more braking power. The same with the foot peg. Just hit it harder and you'll soon feel the tires gripping and stopping this overall awesome cruising machine.

Price
The thing with middleweight motorcycles, cruisers included, is that they have to speak through their price. A manufacturer couldn't claim that it offers an excellent middleweight package for somewhere around ten grand let's say. Thinks have to remain proportionate so as the customer would make the best choice for him in relation to its pocket. This Star doesn't exaggerate in any chapter as it is being offered for the suggested retail price of $6,199 (Galaxy Blue) or $6,299 (Raven w/Flames).

Conclusion
Star understands that you don't have to be a heavyweight to express yourself. The way they see it, this Classic has all the Star quality and strong-running V-twin performance you want and I am pretty sure that this is your opinion either. It's up to you to say the rest as I name it a wise mean of expression yourself.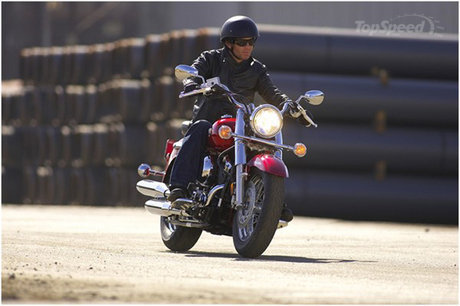 With the 2010 V Star 650 lineup, Star shows how the magic trick can be performed with the help of style and low suggested retail prices rather than that of big V-twin's. Although experienced riders have nothing to discover in what these bikes are concerned, starters find them as being the most appropriate ones both for their learning and traveling needs. Mission accomplished!
----
SPECIFICATIONS
Engine and Transmission
Displacement: 40-cubic-inch (649cc)
Type: Air-cooled 70-degree V-twin; SOHC, 2 valves per cylinder
Bore x Stroke: 81mm x 63mm
Compression Ratio: 9.0:1
Carburetion: (2) 28mm Mikuni CV carburetors
Ignition: TCI
Transmission: 5-speed; multiplate wet clutch
Final Drive: Shaft

Displacement: 40-cubic-inch (649cc)
Type: air-cooled 70° V-twin; SOHC, 2 valves/cylinder
Bore x Stroke: 81mm x 63mm
Compression Ratio: 9.0:1
Carburetion: (2) 28mm Mikuni® CV carburetors
Ignition: TCI
Transmission: 5-speed; multiplate wet clutch
Final Drive: Shaft
Chassis and Dimensions
Suspension/Front: Telescopic fork; 5.5-in travel
Suspension/Rear: Single shock; adjustable preload, 3.9-in travel
Brakes/Front: Hydraulic disc, 298mm
Brakes/Rear: 200mm drum
Tires/Front: 130/90-16
Tires/Rear: 170/80-15
Wheels: Laced
Length: 96.5 - Classic"; 92.0 in - Custom
Width: 36.6 in. - Classic; 34.6 in - Custom
Height: 43.5 in - Classic; 42.0 in - Custom
Seat Height: 27.9 in - Classic; 27.4 in - Custom
Wheelbase: 64 in - Classic; 63.4 in - Custom
Ground Clearance: 5.7 in - Classic; 5.5 in - Custom
Fuel Capacity: 4.2 gal
Fuel Economy: 49 mpg
Wet Weight: 544 lb / C: 548 lb - Classic; 583 lb / C: 587 lb - Silverado; 513 lb / C: 517 lb – Custom
Other
Warranty: 1 Year (Limited Factory Warranty)

Features
Key Features: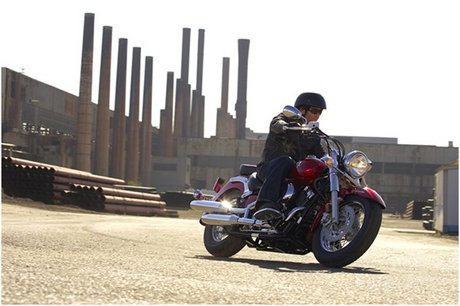 Retro style is even cooler when it's combined with modern engineering, including an SOHC air-cooled V-twin and shaft drive.
The V Star Custom is the lightest of the full-size Stars, which means great handling and performance are along for the ride, too.
A medium-size adjustable windshield, low-profile studded touring seat with backrest and studded leather saddlebags are everything the V Star Silverado needs to be a great traveling bike.
Rider floorboards, steel fenders, custom-looking clear turn signals, lots of chrome, etc. — the V Star Classic represents tremendous cruiser bang for the buck.
Rigid-look frame provides a great ride via a hidden rear shock with 3.9 inches of travel.
The V Star Classic achieves fuel economy up to an estimated 49 mpg** with a fuel tank that holds 4.2 gallons of gas


Engine:
Beautifully chromed and polished 40-cubic-inch (649cc) air-cooled, SOHC 70-degree V-twin cranks out torquey low and mid-range power with minimal engine rpm—maximum torque is reached at only 3000 rpm—for powerful, smooth cruising performance.
Forged, lightweight pistons. Greater durability and reduced vibration and reciprocating mass.
Efficient and quiet shaft drive. Requires almost no maintenance.
Ceramic-composite, cylinder-bore plating ensures superior heat dissipation. Offers better cooling and longer engine life.
Thick, cylnder cooling fins. Enhances the stylish look while increasing efficiency.
Dual, heated Mikuni® 28mm carburetors with a throttle position sensor (TPS) features a progressive pulley, electronic fuel pump and handy side-mounted air filter. Provides a consistent fuel flow, great throttle response and optimum power throughout the rev-range.
Wide-ratio five-speed transmission ensures extremely usable, cruiser-friendly power delivery to the asphalt.
Efficient and quiet shaft drive requires almost no maintenance.

Two-into-two chrome exhaust pipes create sleek styling and deliver maximum low- and mid-range engine output.


Chassis/Suspension: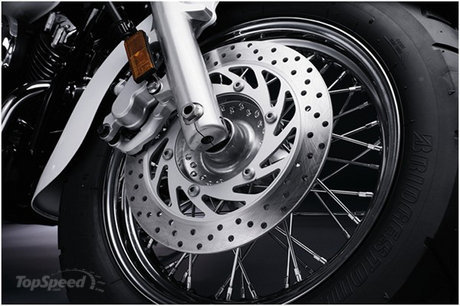 Stout, large-diameter steel frame is designed to provide low seat height with ample legroom.
Extra long 64-inch wheelbase produces a long, low, retro profle with spacious ergonomics for added rider and passenger comfort and predictable handling.
Stylish heel/toe shifter adds versatility and enhances overall cruising comfort.
Comfortably placed full-size rider floorboards enhance ride by minimizing vibration and fatigue.
Telescopic 43mm front fork with chromed covers and 5.5 inches of travel ensures a smooth ride with stylish durability.
Classic, rigid-look, link-type rear suspension serves up 3.9 inches of rear wheel travel damped by a hidden preload-adjustable shock.
Single front disc and rear drum brakes deliver strong, confidence-inspiring stopping power.
Wide, retro-style handlebars evoke classic design, with roomy ergonomics for enhanced rider comfort.
Fat front tire on wire-spoked wheel combines retro styling with solid handling and traction.

Additional Features: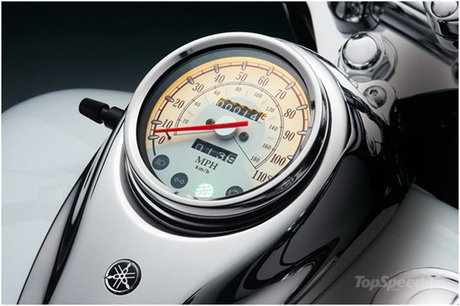 Industry-leading Star family fit and finish features rich, lustrous paint and extensive chrome accents that create a stunningly timeless machine.
Deeply valanced steel front and rear fenders are both durable and unmistakably classic.
Large, 4.2-gallon teardrop fuel tank looks good and goes a long way.
Beautiful, tank-mounted speedometer is designed with a large face for easy reading of tripmeter/odometer displays and turn signal, neutral, high beam and engine diagnostic indicator lights.
Chrome 60/55-watt halogen headlight adds a nice, stylish touch and maximizes nighttime visibility.
Maintenance-free 12V 10AH battery ensures reliable, no-fuss starting.

Under seat helmet holder increases convenience for the rider.

Locking compartment under side cover. Secure storage for small items.
Models Available
V Star 650 Classic
This model made the subject of my review so you became familiar with it, read how it behaves, and most of all how much cash will require. It is also the bike that was first introduced, with the Custom model right next to it, but let's read about the other models, too.

V Star 650 Custom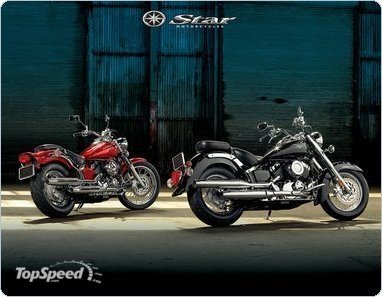 2008 V Star 650 Classic and 650 Custom

Plenty of attitude in a surprisingly lean and low package, priced to leave more of you to express yourself with cool Custom Star Accessories. Now there's no reason to settle for less than a real Star.

Star motorcycles started with an authentic V-twin powerplant and a lean, low-slung chassis, and then tricked it out with lots of chrome, luminous paint, and a bobtail rear fender. And thanks to its chopper profile, shaft drive, and low seat height, the end result is no ordinary custom. The V Star 650 Custom is so stylish and unique that people will swear you must have customized it yourself.

Price
The Custom model is even cheaper and features all it needs for the custom-oriented rider. With an MSRP of $6,099 for both color schemes (Candy Red w/Flames; Raven w/Flames) it is a real bargain and blows away any for of competition.

V Star 650 Silverado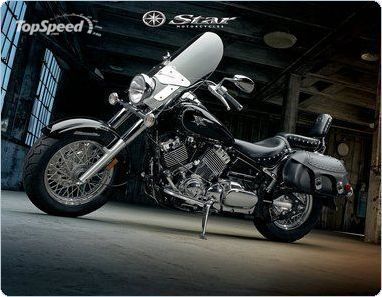 2008 V Star 650 Stratoliner

Everything you need to travel is right here, with not much excess baggage to hold you back. A medium-sized adjustable windshield, low profile studded touring seat with backrest and studded leather saddlebags are everything the V Star Silverado needs to be a great traveling bike.

Источник: http://www.topspeed.com/