The kawasaki kz400 is 398cc twin cylinder universal japanese motorcycle. this term is blurred today with the various models japan builds. few of which look like the ujm of the 1970s and 1980s. kawasaki produced the kz400 from 1974-1984. some of the later models were 440cc. they were built at plants in akashi, japan and lincoln, nebraska. the lincoln plant (1974) made kawasaki the first foreign motorcycle manufacturer to operate a plant in the united states. kz400s outsold honda in the 400cc twins market through the 1970s. these motorcycles were marketed as fuel efficient transportation.

the early models were prone to oil leaks and unstable idling. both the carburetors and the design of the oil passages were redesigned for models beginning in 1977. some models were offered bare bones, with no electric start and front drum brakes. most, however, had a single disc in the front and drum in the rear as well as electric and kick starters. deluxe models even had a fairing and saddle bags.

Kawasaki KZ400 H LTD 1979
Основные данные

Производитель:

Kawasaki

Модель:

KZ400 H LTD

Модельный год:

1979

Тип транспортного средства:

Кастом / Круизер / Чоппер

Двигатель

Объем двигателя:

398.00 куб. см. (24.29 куб. дюймов)

Тип двигателя:

Двухцилиндровый

Количество тактов:

4

Максимальноя мощность:

36.00 л.с. (26.3 кВт )) @ 8500 об./мин.

Максимальный крутящий момент:

31.18 Н*м (3.2 кГм или 23.0 футо-фунтов ) @ 7000 об./мин.

Степень сжатия:

9.5

Соотношение диаметра и хода поршня:

64.0 x 62.0 мм (2.5 x 2.4 дюймов)

Количество клапанов на цилиндр:

2

Система газораспределения:

SOHC

Топливная система:

Карбюраторная. Keihin VN32SS x 2

Система зажигания:

Battery and coil

Система смазки:

forced lubrication (wet sump)

Тип стартера:

Электрический & ножной

Система охлаждения:

Воздушная

Вес:

170.0 kg (374.8 pounds)

Полная заправка:

12 л.
Year

Title

Picture

Description

1974

kawasaki KZ400

1975

kz400

396cc, 4-stroke, 2-cylinder
55.59 mpg
$1170 (new)
399 lbs

1975

kawasaki KZ400S

1976

kawasaki kz400

1976

kawasaki kz400 s

1976

kawasaki KZ400 D3

1977

kawasaki KZ400 D4

1977

kawasaki kz400 deluxe

1978

kawasaki kz400b custom

1979
kawasaki KZ400B2

1979

kawasaki KZ400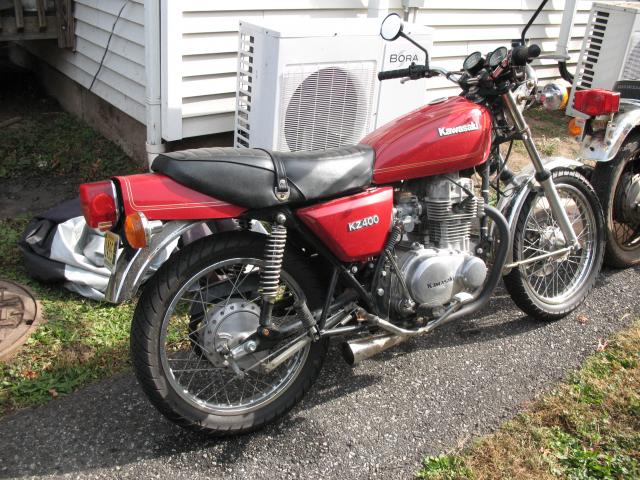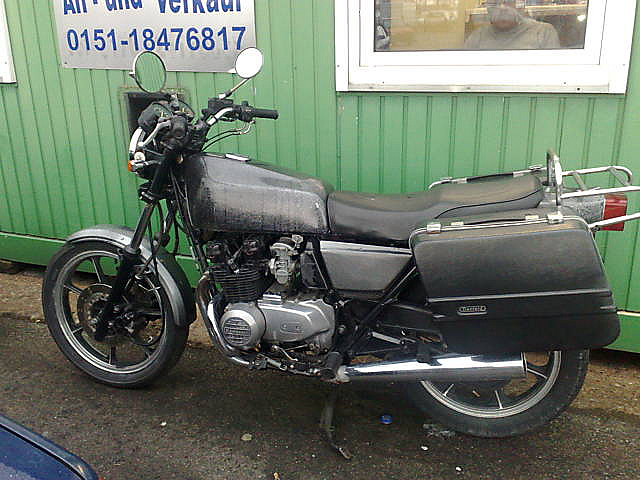 Более подробную информацию о мотоцикле kawasaki KZ400 ищи, например, здесь: http://www.kz400.com/400440AdsFrameset.html
Kawasaki KZ305 CSR 1981
The Kawasaki KZ305 CSR was a small street cruiser produced in the early eighties.

Specifications

306cc displacement
Chain drive or belt drive for '81-'82 (CSR model) or belt drive for '87-'88 (LTD model)
6 speed transmission
front disk, rear drum brakes
point ignition
Keihin CV32 carburetors
Model Identification

Color
1- Ebony 2- Candy Permission Red
VIN Range
JKAKZLA1eBA000001 - 009600
Engine number range
KZ305AE000001 - 010100, found on RH top crankcase, below carburetor.
Cylinder Mark
0.306l found on front center, above base
Engine
Engine Type
4 stroke, 2 - cylinder, SOHC, air cooled.
Displacement
306cc
Bore X Stroke
61.0 X 52.4 mm
Compression Ratio
9.5:1
Maximum HP
30 at 9000 rpm
Maximum torque
2.5 kg-m at 7000 rpm
Carburetor
Keihin CV32 (2), constant velocity, diaphragm type
Ignition System
12 Battery & coil, contact breaker
Ignition Advance
Mechanical (centrifugal)
Transmission
Crankshaft Rotation
Counterclockwise from ignition (LH) side
Clutch Type
Wet, multi-disc, Manual
Firing Interval
180°
Transmission
6-speed,constant mesh, return shift
Cylinder Material
Aluminum alloy with ferrous sleeve
Shift Pattern (bottom Up)
1-N-2-3-4-5-6 (w/neutral finder)
Fuel
Min 91 Research/87 average oct, unleaded OK
Gear ratios
1st
2.60 (39/15)
Tuning Specifications
2nd
1.79 (34/19)
Engine
3rd
1.41 (31/22)
Cylinder Head Torque
Head Nuts
In sequence 1- 2.0 kg/m 2- 2.5 kg/m
4th
1.16 (29/25)
Cover Bolts
3- 6Ш: 1.0 kg/m 4- 8Ш: 2.5 kg/m 4- Warm up 6- Retorque cold
5th
1.00 (27/27)
Valve Clearance Cold
Intake
0.14 - 0.19 mm
6th
0.89 (25/28)
Exhaust
0.21 - 0.26 mm
Primary Ratio
3.74 (71/19)
Valve Adjustment Method
Rocker arm screw
Final Ratio
2.20 (33/15)
Compression Pressure
7.7 - 11.0 kg/cmІ usable range
Overall Ratio (Top Gear)
7.34
Spark Plug
NGK D9EA 0.6 - 0.7 mm gap
Chassis
Point Gap
0.35 ± 0.05 mm
Wheelbase
1355 mm
Ignition Timing
Idle
10° BTDC ("F" mark) at 1,250 rpm
Seat Height
750 mm
Full
40° BTDC (in double marks) at 2,500 rpm
Ground Clearance
150 mm
Air Screw
Sealed - not adjustable
Dry Weight
152 kg
Idle Speed
1250 ± 50 rpm
Max Recommended Load
155 kg
Engine Oil
SE Class SAE 10W40, 10W50, 20W40, 20W50
Fuel Tank Capacity
10.5 liters
- w/filter change
1.8 liter
Tire Size
Front
3.00S-18 4PR Tube-Type
- no filter change
1.5 liter
Rear
120/90-16 63S Tube-Type
- Level
On center stand, wait 5 min, middle of window.
Brake Type
Front
Single hydraulic disc
- Oil Pump Check
Remove oil galley plug above LH spark plug, with engine idling, oil should flow from galley.
Rear
Mechanical Drum (Leading/Trailing)
Chassis
Brake Size
Front
226 mm effective diameter
Fork Oil
SAE 5W20 (equiv. to SS8 or G0)
Rear
160 X 30 mm
- Capacity
150cc dry, approx ? cc oil change
Suspension Stroke
Front
150 mm
- Level
480 ± 2 (Fork extended, spring removed)
Rear
105 mm (wheel travel)
Tire Pressure (cold)
Front
1.75 kg/cmІ
Rear (normal)
1.50 kg/cmІ (0 - 97.5 kg)
Rear (heavy)
2.00 kg/cmІ (97.5 - 155 kg)
Chain Slack
25 - 30 mm (on center stand, tightest point, STDs)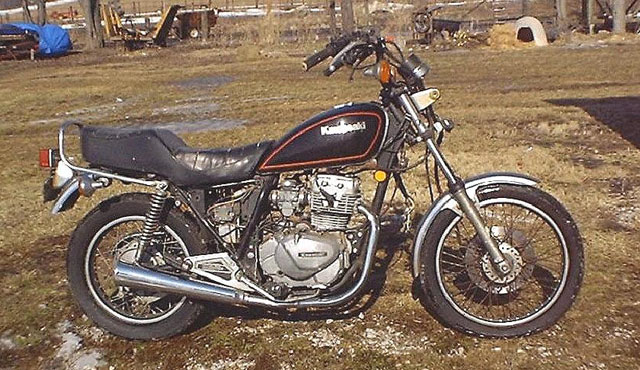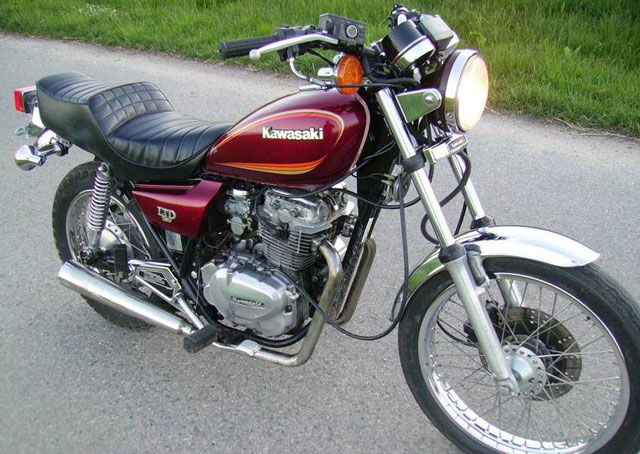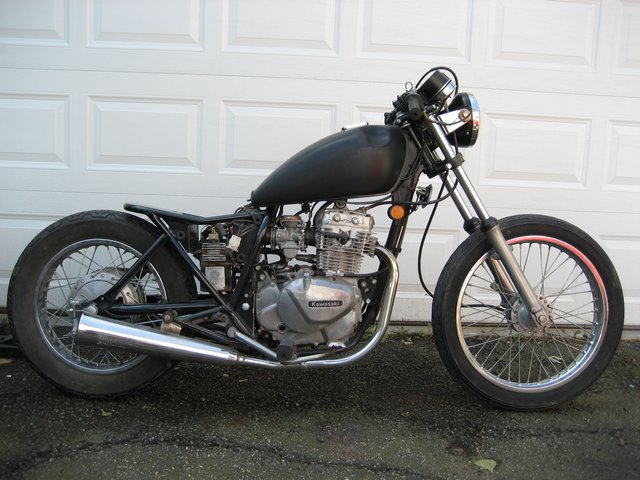 Kawasaki Kz200 1978-79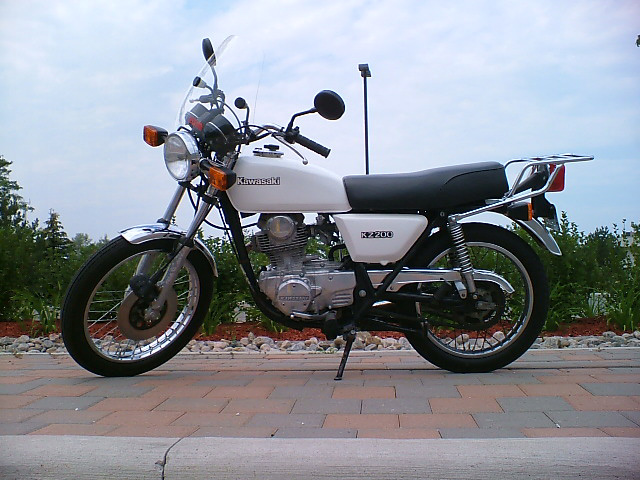 I've got this specification from the original Manual Book of Kawasaki Z-200 A1 for European Market. But I think this motorcycle have same engine specification for another market. The only differences is electrician and/or body frame.



Dimension

Overall length : US 1,920 mm - European l,980 mm
Overall width : US 780 mm - European 700 mm
Overall height : US 1,050 mm - European l,O3O mm
Wheelbase : 1,280 mm
Road clearance : 150 mm
Dry weight : 126 kg
Fuel tank capacity : 9.3 liter
Performance
Climbing ability : 330°
Braking distance : 12 m @50 kph
Minimum turning radius : 1.9 m

Engine

Type OHC 1 cylinder, 4 stroke, air-cooled
Bore and stroke : 66 x 58 mm
Displacement : 198 cc
Compression ratio : 9.0
Maximum horsepower : 18 HP @8,000 rpm
Maximum torque : 1.68 kg-rn @7,000 rpm

Valve timing

Inlet Open : 32° BTDC
Inlet Close : 60° ABDC
Inlet Duration : 272°
Exhaust Open : 67° BBDC
Exhaust Close : 25° ATOC
Exhaust Duration : 272°
Carburetor : Keihin PW26
Lubrication system : Forced lubrication (wet sump)
Engine oil : SE class SAE 10W40, 10W50, 20W40, or 20W50
Engine oil : capacity 1.4 Q
Starting system : Electric and kick
Ignition System : Battery and coil
Ignition timing : From 13° BTDC @1,200 rpm to 43° BTDC @3,000 rpri
Spark plug : NGK B7ES or ND W22ES-U

Transmission

Type : 5-speed, constant mesh, return shift
Clutch : Wet, multi disc
Gear ratio : 1st 2.64 (29/11), 2nd 1.73 (26/15), 3rd 1.30 (26/20), 4th 105 (2 1/20), 5th 0.90 (19/21)
Primary reduction ratio : 3.29 (69/21)
Final reduction ratio : 2.67 (40/15)
Overall drive ratio : 7.93 (Top gear)

Electrical Equipment

Generator : (Dynamo) Kokusan GP930 1
Regulator/Rectifier : Shindengen SH-221-12B
Ignition coil : Toyo Denso ZC003-12V
Battery : Yuasa 12N10-3B (12V 1OAH)
Starter : Mitsuba SM-223C
Headlight type : US Sealed beam, European Semi-sealed
Headlight : US 12V 35/25W, European 12V 35/35W (I) 12V 36/36W
Tail/Brake light : US 12V 8/27W, European 12V 5/21W
Speedometer light : 12V 3.4W
Tachometer light : 12V 3.4W
Neutral indicator light : 12V 3.4W
High beam indicator light : 12V 3.4W
Turn signal lights : US 12V 23W, European 12V21W
Turn signal indicator light : 12V 2A, (F - I) 12V 2.5A
Horn : 12V4W
City light : European 12V 4W

Frame

Type : Tubular, single cradle
Steering angle : 450 to either side
Castor : 64°
Trail : 88mm
Tire size : Front 2.75-184PR, Rear 3.25-17 6PR
Suspension : Front Telescopic fork, Rear Swing arm
Suspension stroke : Front 120 mm, Rear 70mm
Front fork oil : type SAE 5W20
Front fork oil : capacity (each fork) 145- 155cc

Brakes

Type : Front Disc brake, Rear Internal expansion, leading-trailing
Effective disc : diameter 206 mm
Brake drum inside : diameter and width 130 x 28 mm


F - French Model, I - Italian Model
Specifications subject to change without notice, and may not apply to every country.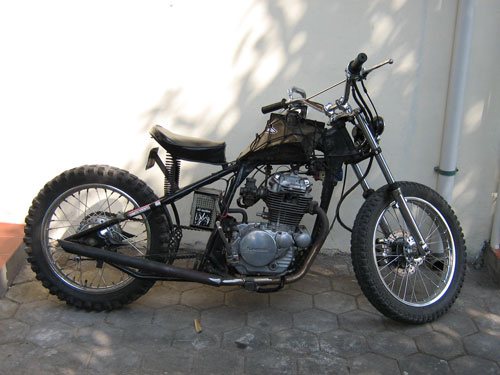 Индонезийский кастомайзинг в 1981 Kawasaki Z200 от Darizt Design

Представьте, что вы не можете позволить себе мотоцикл. То есть совсем не можете – даже самый малокубатурный, даже самый ржавый и убитый, даже «ушатанный» китайский скутер-полтинник. А теперь представьте, что вы живете в стране, где выбор байков крайне ограничен – в такой стране, по сравнению с которой наши братские государства покажутся настоящим двухколесным раем. И как в таком аду на земле можно стать хорошим кастомайзером? Однако Агус Даризт (Agus Darizt) с острова Ява, Индонезия, все же смог воплотить свою мечту в жизнь.

А началось все пару лет назад – тогда Агус только мечтал о мастерской, раскрашивая и переделывая игрушечные модельки мотоциклов. Он так поднаторел в этом деле, что один из его друзей спросил, сможет ли Агус сделать то же самое с полноценным байком. Разумеется, мечтатель тут же вцепился в этот шанс, и с тех пор никогда не оглядывался назад.

«Я начал с нуля – научился сварке, работе с трубогибом, обработке металла. Пять месяцев спустя мой первый кастом Preambule Orange CB100 был готов», - рассказывает индонезиец. Прошло уже три года, за которые Агус сумел завершить девять проектов – о последнем, который он скромно называет «девятой попыткой», мы и поговорим.




«Девятая попытка» основана на 1981 Kawasaki Z200. Байк был создан за лето этого года. Ходовая подверглась значительным модификациям – удлинена колесная база, вилка заимствована с Yamaha Byson, а задние амортизаторы заменены на афтермаркет от Daytona. Бензобак найден на свалке – мне кажется, что он от какого-то старого Zundapp. Некоторые элементы являются переработанными деталями велосипедов, например, держатели тросов и подножки. Покраска выполнена в моем маленьком гараже, глушитель, руль и седло также изготовлены вручную», - рассказывает Агус.

Двигатель также не остался в стороне – цилиндр расточен, установлен увеличенный поршень от какой-то Honda Civic 80-х годов. Карбюратор заменен на Mikuni с 32-мм диффузором, проводка и зажигание переработаны. Все детали складываются в органичный образ, от передней шины до заднего крыла. Агус Даризт определенно обладает чувством стиля. Продолжай творить, парень!

Kawasaki KZ200 Street Tracker out of Indonesia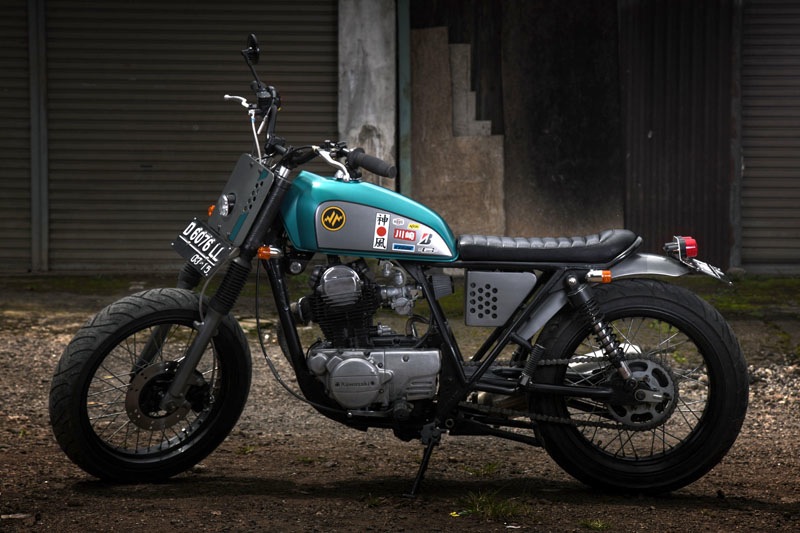 I've slacked on posting reader's submissions for a long time, going to try to get a few more rides up over the next couple weeks. This killer Kawasaki KZ200 comes from Gifny Richata out or Indonesia. Dig the attention to detail and smooth lines of the bike. Looks like a blast to rip around on. Here's what Gifny has to say about it.

The motorcycle is 1981 Kawasaki KZ200, back then in Indonesia it was the biggest bike around since the goverment only limit the motorcycle's displacement on the market under 200cc. This is my first custom ride, I'm working as an illustrator but motorcycles is always my obsession. I build it with a help from my partner Nandang who is a mechanic and also a customizer. This is our first work together under the 'Hajarbroxx Motorcycles' banner

Bought the bike in a poor condition and not running, we rebuild the engine to the original condition with NOS parts. The gas tank is a 19?? Suzuki TS100 NOS. The frame is original with some cutting here and there. The swingarm is a custom handmade (approximately 7cm longer the original) by a local smithy. The battery case and the headlight plate is also handmade from iron plate. The front fork is original, but we use the wide triple clamp from a customized one, I think it used to be used for an enduro bike. Handlebar is handmade custom, too.

The wheels are 3.00 wide for front and 3.50 wide for the rear. The tires are 120s. The rear shocks are from new Suzuki GSX250. The rear brake is still the original drum one. The front brake set is taken from the new Suzuki GSX125 with the OEM disc. The headlight is light accessories for cars. The turnlights are universal accessories. The exhaust is originally used for KTM 950 I got on a good deal so I tried it on this baby.

I'm working as a concept artist/illustrator and started my own studio ( www.oraystudios.com ) and now with my friend Nandang, a mechanic who helped me building this bike, we're gonna start a small custom bike garage called Hajarbroxx motorcycles, and hopefully we'll gonna start making really cool bikes in near future… We have a Facebook page so far, please visit to give comments and feedbacks, thanks!

Nicely done.